Jan 1 2018 18150 1
What is the Best Time of Year to Sell Your Property in Alachua County?

Generally speaking, most realtors will tell you Spring and early summer are the best time to sell. But there are several considerations when making your choice. Families with children probably want to be situated before the new school year starts so it makes sense from that viewpoint. Gainesville is a college town and much of our economy revolves around the University of Florida and Santa Fe College. Many of the people's lives that revolve around semester schedules would prefer not to deal with a move during these months either.
But what if you own a vacant house? Or a waterfront or golf course condo? In the first case, your carrying costs probably outweigh other concerns such as holding out until spring to sell. And a condo might appeal to a different demographic that doesn't care about what semester we are in.
Finally regardless of where you own property, the Federal Reserve has already telegraphed its intent to implement 3 or 4 interest rate hikes in 2018. While the Fed does not dictate mortgage rates, eventually long term lending rates will creep higher. This will increase a borrower's monthly payment and pushing some homes out of their budget.
One statistical measure of value for discussion is what percentage of the original listing price did homes sell for during specific periods. From the graphics you can see Q2 had the highest % of original list price at 97.8%. The worst period was Q4 2016 at 96.2%. This does not consider other factors. For example, quarter over quarter, inventory numbers have been steadily dropping. Less supply usually means higher prices and at the end of the day, sellers want to receive this highest offers possible.
Find Out what your home is worth: http://mattcirafice.gac.exprealty.com/sell.php?town=county%3AALACHUA&ppc=Blog&addht=jan1sl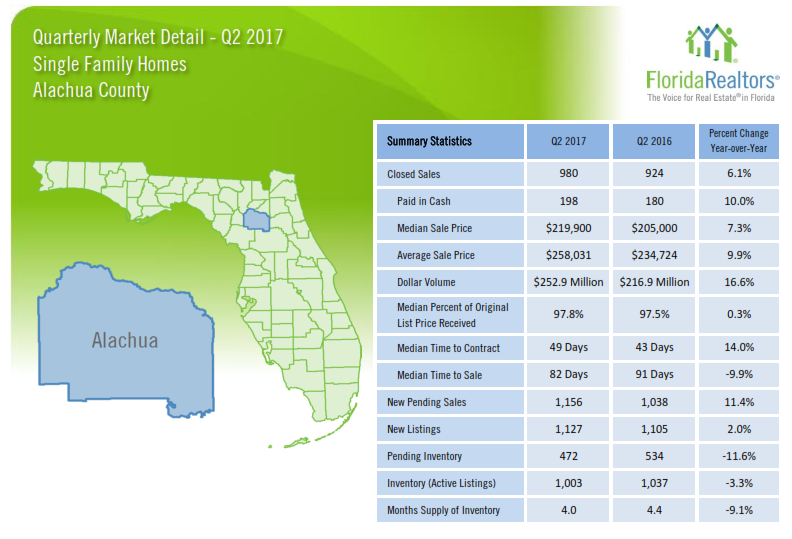 Author:
Matt Cirafice
Phone:
352-870-5700
Dated:
January 1st 2018
Views:
110
About Matt: Serving Gainesville and Alachua County. I am a US Navy Veteran and creator of Gainesville Alachua C...